A Tale of Two Defensive Driving Certificates
In times when every dollar is spent more reluctantly, more people seem to be learning that a defensive driving class is an excellent way to get a discount on their auto insurance.
Most insurance companies now offer a discounted insurance premium to drivers who complete a defensive driving course. The standard discount seems to be 10% for three years, though you should contact your insurance company to ask for the particular details of any discount they offer.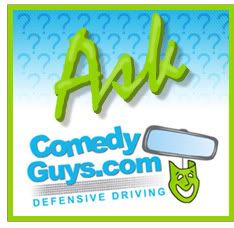 But because more people are taking advantage of this discount, this question comes up more and more often:
How do I get a second copy of my defensive driving
certificate for my insurance company?
Actually, there's nothing special that you need to do.
If you take a Comedy Guys Defensive Driving class — either at any of our live class locations or our online defensive driving course — to have a ticket dismissed, we  always send you two copies of your certificate of completion: one for the court and one for the insurance company. In fact, the two certificates are actually marked "Court Copy" and "Insurance Copy."
This way you can get that speeding ticket off of your driving record AND get that discount on your auto insurance, all without any hassle about getting a second copy of your defensive driving certificate.