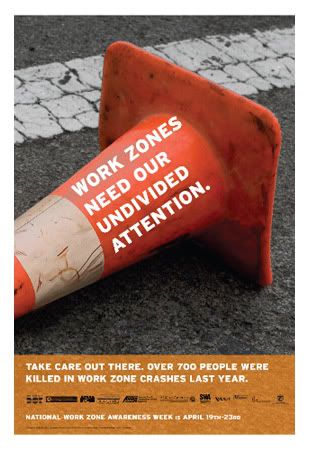 We've said it before, but it's worth repeating: distracted drivers are dangerous drivers.
And that message is one of the main themes of this year's National Work Zone Safety Awareness Week, launched yesterday at an event in NYC and continuing through April 23. This week is intended to bring more attention to the increased dangers drivers face while driving near road construction.
At the launch event in Battery Park in Manhatten, Rich Cavarello, a director with the  American Road & Transportation Builders Association (ARTBA), reiterated how important having the driver's "undivided attention" is to making driving safer in work zones.
In a press release yesterday, the ARTBA offered some practical advice on driving in work zones, and here at ComedyGuys, we're all about practical advice.
Here's what they suggested:
Know the work zone signs.
Pay attention to other drivers.
Keep an eye out for workers.
Stay focused.  Avoid distractions.
Expect the unexpected.
Keep your cool and be patient.
According to a US Dept of Transportation report, 2008 saw 720 workers and motorists killed in highway work zones and more than 40,000 were injured. Eighty–five percent of those killed in work zones are drivers or their passengers.
Whether it's a work zone that wasn't there yesterday or a soccer ball bouncing out of a neighbor's yard, driving is full of surprises. A big part of our job at Comedy Guys Defensive Driving is teaching people how to handle the surprises they meet on the road.
Whether you take our class online or at one of our 30+ classroom locations, Comedy Guys can help you become a safer driver.