How does Defensive Driving Work?
This may be the single most-asked question:
"How does defensive driving work?"
Meaning, of course, how do I use a defensive driving class to get my ticket dismissed?
Well, we can answer that, but bear in mind that what we're going to tell you applies to defensive driving and ticket dismissal in Texas. Things may work differently in other states, but Texas is our home turf and that's what we're going to limit ourselves to.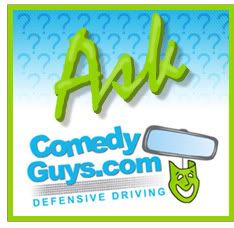 STEP 1: Contact the Court
On your ticket somewhere will be the name of the court involved, the address and telephone number, and a date—usually about 21 days after the date the ticket was written. That date is your deadline for contacting the court.
It's always the court's decision whether a ticket can be dismissed or not, so you have to contact them and get their approval to have a ticket dismissed before you take the class. Normally, this is just a formality, but it has to be done. Even if the officer that wrote the ticket told you that you could get it dismissed, you still need the court's approval to make it official.
Be prepared though: even if you elect to have a ticket dismissed, you'll have to pay court costs. This is usually about $110 — plus $25 if you were ticket in an active school zone.
STEP 2: Know your Deadline
Typically you'll have 90 days to take the class, receive the certificate of completion to prove you were there, and deliver the certificate to the court.
That certificate has to be mailed to you. Whenever the courts are involved, we – and every other defensive driving course provider that's following the law – are not allowed to hand your certificate to you personally. It has to pass through some third-party between us and you. In most cases, that third-party is the US Postal Service, though it can also be some overnight mail service or a courier. This requirement was begun a few years ago to help eliminate some fraudulent practices that some companies engaged in.
What this means for you is that you cannot wait until the deadline to take the class. If you do, you run the risk of not getting your certificate in time without paying extra for overnight mail. The advice we usually give is this: find out the last day to deliver the certificate, then subtract three weeks and consider that your deadline. Do this, and you'll get your paperwork before it's too late.
STEP 3: Sign up for the Class
Our online defensive driving class is incredibly convenient, because you decide when you want to work on it and for how long.
If you'd rather take a live class, check out our calendar of classes to find which of our 30+ locations is closest to you and best fits your schedule.
STEP 4: Take the Class
This is the easy part, because our instructors will be doing most of the work. You just need to fill out your paperwork carefully (remember: mistakes equal delays), pay attention, and pass the quiz at the end.
And, most importantly, have a good time. The whole point of mixing comedy and defensive driving is to cover the required material without boring anyone into a coma but without a comfy hospital bed.
STEP 5: Deliver your Certificate to the Court
When your certificate arrives (with regular mail, usually within 7 to 10 days after the class), there will be two copies in the same envelope. Sign the one marked "court copy" and get it to the court; deliver in person or send it registered mail. At this point, the court should erase this particular ticket from your record.
The other copy of your certificate is marked "insurance copy." Ask your insurance company whether it offers a discount for people who've taken defensive driving. If so, the typical discount is 10% for three years. So instead of your insurance going up because you got a ticket, it may even go down because you took our class.
STEP 6: Remember what you learned in class
and don't get another ticket!