No Offensive Comedy in Our Defensive Driving Classes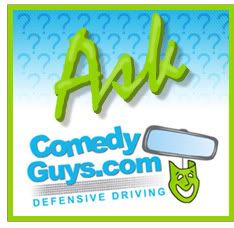 This  question pops up from time, most recently from a parent concerned about sending his daughter to our defensive driving course:
"Is the comedy in your defensive driving class
suitable for everybody?"
The short answer is "yes."
Comedy Guys Defensive Driving does take the boredom out defensive driving classes by having it written and taught by professional comics and entertainers.
But these guys are professionals, and they know that not all jokes are right for all audiences.We train our instructors to take the conservative route, to err on the side of caution and save the more questionable jokes for their stand-up routines.
The same is true of our online defensive driving class. The information presented in the text and videos of our online course is broken up with comedy, but the jokes are written to be amusing without being offensive.
In our driving safety classes we get a great mix of people. Some are teenagers whose license are so new, they're still warm from the lamination machine. Others have been driving so long that their drivers license numbers are in Roman numerals. Some blush is they have to say the word "restroom" in public, while others have an everyday vocabulary that would burn the ear hair out of a truck driver.
Because of this great variety of people, we take a mainstream approach to the comedy.
The result should be a defensive driving class that cuts the tedium with comedy but without being tasteless or offensive.