Online Defensive Driving for the iPad
ComedyGuys.com continues to expand mobile defensive driving to make it more convenient and enjoyable for Texas drivers by launching their online defensive driving course for Apple's iPhone and the new iPad.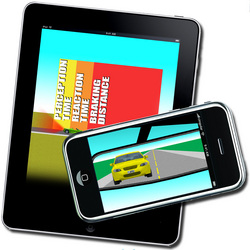 Comedy Guys Defensive Driving made online defensive driving more convenient by formatting their comedy version of their online course for Apple's iPhone. Now, they continue to innovate in the industry by making the course compatible with Apple's new iPad. After registering online, customers may take the course from any computer with Internet access or their iPhone and now the iPad. And because nothing is downloaded and all information is stored on Comedy Guys' servers, switching back and forth among different devices is no problem.
"Time-wise, our online defensive driving course is flexible because people can login and out whenever they want. Now by making it available on mobile devices, our course is available wherever our customers are," says ComedyGuys' Cash Cooper. "Our mobile defensive driving course allows users to login when they have time to kill and no computer. It really makes our course the most convenient in the defensive driving industry."
ComedyGuys.com uses a combination of text and video to deliver its defensive driving course. Comedy, defensive driving, and convenience make Comedy Guys the choice of the new mobile population. Adapting the course to the iPhone and iPad was simplified by the fact that the company created its video content without using Flash, which can create problems with some Web browsers and doesn't work on the iPhone or iPad.
But the Comedy Guys are quick to point out that adapting their driving safety course to the iPad is just one more step in making defensive driving mobile. They're already at work making mobile defensive driving available on other smart phones as well.
The state approved curriculum covers all required content for a driving safety course, but Comedy Guys uses professional comedians to make the course more entertaining. Comedy writers worked on the original curriculum and the text for the online course, and comics appear in the video clips throughout the course
The company sees this iPhone and iPad version of its online driving safety course as the next improvement in driving safety classes. "Combining defensive driving with stand up comedy was a great idea. People learn a lot more when they're not snoring," said Comedy Guys founder Mark Cooper. "Putting defensive driving online made it so much easier for busy people to fit into a busy schedule. Now by offering our class on the iPhone and iPad makes even more convenient."
In addition to the online course, ComedyGuys.com continues to offer Texas defensive driving courses in over 30 locations. A complete schedule of defensive driving classes is available at the Comedy Guys website or by calling 877-826-6339.