Online Defensive Driving Test Questions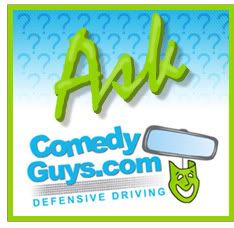 Often people call us who've never taken a driving safety course online before, and many of those people ask something like this:
If I take your online
defensive driving course,
what's the test like?
Well, this is exactly what we tell everyone who takes our online class, right before the test begins…
Don't be nervous.
Our online defensive driving test mostly covers things that a good driver should already know, and it`s not designed to be difficult.
What is our Online Defensive Driving Test Like?
There are 20 multiple-choice questions,
each with four possible answer choices. You only have one chance to answer each question. If you use your Browser's Back button to see a previous question, your answer may be recorded as incorrect.
You'll have 90 seconds to answer each question.
You must answer before your 90 seconds run out or your answer will be marked wrong. After you answer a question, you will be told immediately whether you answered correctly or not, and what the highest possible score you can make is.
You must score at least 70% to pass.
If your possible score drops below 70%, the test will be stopped and you'll be sent back to the index page so you can review anything in the course before you re-take the test.
You have three chances to pass the test.
If you have any other questions about driving or about our Texas traffic school, please email them to us or call us at 888-401-3748. Or just add it to the comments below.