Standup Time Machine: Gene McGuire in April 1996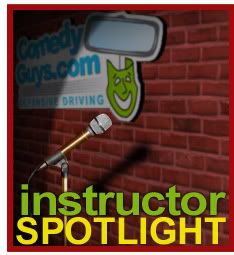 Guess who found some VHS copies of old stand-up comedy gigs from the 90s?
A few weeks backs, Gene McGuire — one of our Comedy Guys Defensive Driving instructors — came in with a few VHS tapes of some of his standup comedy appearances in clubs and on Caroline's Comedy Hour.
I moved them from tape to DVD for him, and I cut out a few clips to post to our YouTube channel.
The clip below is from an appearance at Cracker's Comedy Club in Indianapolis back in April 1996. Some of his language is perhaps not the nicest in the world at times, but the man is funny!
---
Best Online Defensive Driving Course 
[ls_content_block id="58451"] We provide the shortest online defensive driving course allowed by law and it works on iPhones, iPads, Android and other mobile devices plus, instant certificate download is available.
Best Classrooom Defensive Driving Course 
Comedy Guys Defensive Driving classroom instruction provides more scheduled defensive driving classes taught by professional entertainers than any other safety school in Texas. We are rated A+ by the Better Business Bureau and we back your experience with our iron-clad money-back guarantee.
Finish Our Course Today, Download Your Certificate Today