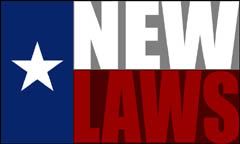 Like crickets in October, every other September 1st Texans get a load of new laws from the legislature. Here's a quick summary of some of the driving-related changes that go into effect today.
CELL PHONES – Using a hand-held cell phone in an active school zone is illegal statewide, unless your car is stopped. Local communities can only enforce this if the school zone has warning signs in place.
CHILD SAFETY SEATS – Children who are at least 8 years old OR at least 4'9" tall do not have to have to ride in booster seats. Children under age 8 and shorter than 4'9" do. The fine for a first offense maxes out at $25, but a second offense fine can be $250.
CONCEALED HANDGUNS – The DPS is no longer empowered to suspend a concealed handgun license because the license holder did not show the handgun to an officer on demand.
DRIVER'S ED – All license applicants under 18 must take a six-hour driver education course and a driving test. Previously applicants who had completed a driver's education course could escape the test; now only drivers 18 or over can do that.
Public schools may again offer driver's education for a fee or contract with a driver education school to teach its students. The total number of behind-the-wheel training is extended from 14 to 34: 7 hours observing and 27 hours actual driving with a licensed instructor or someone who meets transportation code requirements, including 10 hours of driving at night.
DRIVER'S LICENSES – All applicants under 18 must take the driving skills exam to get a license. Provisional licenses now expire on the holder's 18th birthday. Provisional licenses and instructional permits no longer have to be renewed annually, but the fees for them increase from $5 to $15.
Driving with a suspended license and no insurance is now a Class B misdemeanor. Driving without insurance or a valid license and then having a collision where someone is seriously hurt or killed is a Class A misdemeanor.
The DPS is not allowed to issue a license or identification card to anyone who doesn't have an established residence address in Texas. Its is a Class B misdemeanor to steal a driver's license, commercial driver's license, or personal identification card.
Anyone found using a motor vehicle to transport, conceal, or harbor an alien may have their license suspended for life, instead of the one-year suspension that has been the law.
DRUGS AND DWI – Still illegal, of course, and the penalties have increased. DWI with a child passenger now carries an automatic driver license suspension for first-time offenders and the suspension period for repeat offenders is longer. The cost of getting a license reinstated after completing an education course goes from $50 to $100. And the new laws close up the loophole that used to help those who got ticketed at 20 but turned 21 before their court date.
Officers may now take blood evidence from a suspected DWI driver without their consent and without a warrant if an accident occurred where someone other than the driver is hurt, if a child under 15 is in the car, or if the driver has previous convictions that would make the current charge felony DWI.
Minors may now be charged with public intoxication. Juveniles who successfully complete a court drug program or other special court-ordered program may have their criminal records immediately sealed.
MOTORCYCLES – Applicants for an original Class M or a Class A, B, or C driver's license with motorcycle operation authorization must show proof of completion of an approved motorcycle training class.
Motorcycle riders who ride without a helmet are no longer required to be covered with a minimum of $10,000 in health insurance for injuries incurred in a motorcycle. The bill requires the Texas Department of Insurance to prescribe a standard proof of health insurance for issuance to persons who are at least 21 years of age and covered by an applicable health insurance plan.
Officers are prohibited from stopping or detaining a person who is the operator of or a passenger on a motorcycle for the sole purpose of determining whether the person has successfully completed a motorcycle operator training and safety course or is covered by a motorcycle health insurance plan.
A child under 5 cannot be a passenger on a motorcycle unless they're seated in a sidecar.
NEVs – Neighborhood electric vehicles (battery-powered vehicles that move at speeds under 45mph) are now legal on streets with a maximum speed limit of 45. Drivers licensed to operate an NEV are not required to have a motorcycle endorsement on their licenses, and they and their passengers are not required to wear helmets.
NEW RESIDENTS – Those new to Texas now have 90 days to get a Texas driver's license, instead of the old limit of 30 days.
SEATBELTS – Everybody in the car wears a seatbelt, no matter how old they are or where they're sitting. And no more exceptions for vans: the driver and passengers in a van designed to carry 15 or fewer people have to buckle up, too.
STREET RACING – A car used in illegal racing that causes property damage or personal injury will be seized and not returned until removal and storage fees are paid.
TEENAGERS – Drivers under 18 may not use a wireless communication device while driving.
Drivers under 18 who get their licenses on or after September 1, 2009 may not drive with more than one passenger under 21 who is not a family member for the first 12 months of having the license. That same group may not driver after midnight or before 5 a.m. (unless driving is necessary for transportation to or from school activities or work, or for a medical emergency) for that same period of time.
TINTED WINDOWS – Vehicles with tinted windows must display a vehicle equipment safety compliance sticker on the windshield, side or rear window stating that the tinting complies with Transportation Code. No sticker and you face a $1000 fine.
TRAFFIC STOPS – Officers may only make a traffic stop in marked police cars. Emergency lights alone are not enough to require you to pull over.
And our lawyer insists that I add the following: This is not a comprehensive list of the new laws, neither is to be considered, in any sense, legal advice or a foundation for any defense against legal charges arising from violations of these or any other laws or regulations. After all, we're not lawyers (which is probably why you can understand what we write) and do not claim to be.